Tech Careers That Make a Positive Impact
We're a cutting-edge tech company pushing for innovation in the public sector and giving governments the power to thrive. There's a few other things we all have in common.
Watch For More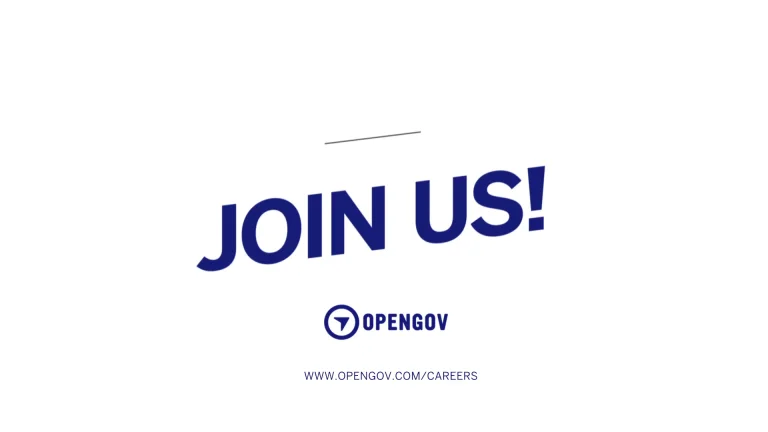 Every day, these three values drive our operating rhythm. They unite our culture across a diverse group of employees located around the globe, and they tell us what to do when no one's looking.
We do
what we say we'll do
We have passion for the mission
We drive for customer impact

Competitive
Salary
Own the work you do. Our competitive compensation packages and significant equity stakes are some of the best in the industry.

Award Winning Workplace
Awards include Top Workplaces USA and Forbes America's Best Startup Employers.
OpenGov is a workplace you can thrive in!

Unlimited
Vacation
You read that right. Take the time you need to feel your best.
Our teams work collaboratively to create vacation schedules that work for everyone.

Mission – Driven
Colleagues
More like friends. We're one big team and each other's biggest supporters. Celebrating our coworkers' successes is one of our favorite past times. 

World-Class
Healthcare
Comprehensive medical, dental and vision coverage for you and your family. We almost forgot to mention: We cover 90% of your employee premium.

Professional
Development
Keep on growing. We invest in opportunities for you to refine your craft. We take your goals seriously, with opportunities to grow your career.

Family
Matters
Welcome your little one into your family with four weeks of paid leave for new parents and up to 12 weeks of paid leave for the parent who gives birth.

Amazing
Customers
Our customers truly are the best. They work hard for their communities and are honest with their feedback. We wouldn't be here without them.
Make an impact for OpenGov across the globe.
See What Our Employees Have to Say
"Great team, great mission, great culture. I've been able to grow my career here at OpenGov to new heights and achieve my professional goals."
Shruthi Narayanan
Manager of Engineering, QA
"Every day, I get to work alongside amazing community leaders from around the country as they implement OpenGov solutions. The best part: Hearing the impact they can make thanks to OpenGov."
Gerrod Franklin
Sr. Solutions Engineer
"I cannot say enough good things about OpenGov and the team. I sincerely enjoy everyone I work with on a day to day basis and I can't imagine finding the culture that's been built here anywhere else. Plus, there are so many opportunities for professional growth and development."
Hallie Donovan
Team Lead, Professional Services Operations
"Everyday, I am empowered by leadership to prioritize my work that makes a positive impact. The work we do here is meaningful and has a purpose. This is truly a mission driven culture."
Dorancy Hellman
Sr. Director of User Experience

Careers at 
Diverse teams. Innovative tech careers.
One mission. 
Position
Department
Location

Business Systems Administrator - R&D Focus

Business Operations

Boston, MA; Chicago, IL; San Francisco, CA; Dallas, TX; Tampa, FL; Dubuque, IA

Customer Success Manager (West Region)

Customer Success

San Francisco

Senior Product Designer I

Design

Dubuque, IA; Milwaukee, WI; Chicago, IL

Senior Front-end Engineer (React)

Engineering

Boston, MA; Washington, D.C.; Dallas, TX; Chicago, IL; Portland, OR; Denver, CO; Raleigh, NC; Durham, NC

Senior Fullstack Engineer (Argentina)

Engineering

Buenos Aires

Sr Software Engineer - (Argentina)

Engineering

Buenos Aires

Senior Software Engineer - (Argentina)

Engineering

Buenos Aires

Software Engineer (Javascript)

Engineering

Portland, OR

Head of Site Reliability Engineering

Engineering

United States (Remote)

Director of Corporate Finance & Strategy

Finance

Boston, MA; Chicago, IL; San Francisco, CA; Dallas, TX; Tampa, FL; Dubuque, IA

Director of Brand & Communications

Marketing

Chicago, IL

Director of Brand & Communications

Marketing

San Francisco, CA

General Application (Non-Technical Opportunities)

Opportunistic

United States (Remote)

General Application (Technical Opportunities)

Opportunistic

United States (Remote)

Senior Software Engineer

Platform

Budapest

Director, Product Management, Budgeting & Planning Suite

Product

United States (Hybrid)

Integration Developer

Professional Services

Boston, MA; Chicago, IL; San Francisco, CA; Dallas, TX; Tampa, FL; Dubuque, IA

Project Manager - Enterprise Asset Management - Implementations

Professional Services

Boston, MA

Implementation Analyst (Procurement Expert)

Professional Services

Boston, MA

Implementation Consultant (Budgeting & Planning)

Professional Services

Chicago, IL

Project Manager - Implementations

Professional Services

Chicago, IL

Implementation Analyst (Procurement Expert)

Professional Services

Chicago, IL

Implementation Analyst (Permitting & Licensing)

Professional Services

Chicago, IL

Implementation Consultant (Procurement Expert)

Professional Services

Chicago, IL

Project Manager - Enterprise Asset Management - Implementations

Professional Services

Chicago, IL

Implementation Analyst (Procurement Expert)

Professional Services

Dallas, Texas

Implementation Consultant (Procurement Expert)

Professional Services

Dallas, TX

Project Manager - Enterprise Asset Management - Implementations

Professional Services

Dallas, TX

Implementation Analyst (Permitting & Licensing)

Professional Services

San Francisco, CA

Implementation Consultant (Budgeting & Planning)

Professional Services

San Francisco, CA

Implementation Analyst (Procurement Expert)

Professional Services

Tampa, FL

Implementation Consultant (Procurement Expert)

Professional Services

Tampa, FL

Implementation Consultant (Procurement Expert)

Professional Services

Tampa, FL

Implementation Consultant (Budgeting & Planning)

Professional Services

Tampa, FL

Project Manager - Enterprise Asset Management - Implementations

Professional Services

Tampa, FL

Manager, GTM Strategy

Revenue Operations

Boston, MA

Manager, GTM Strategy

Revenue Operations

Chicago, IL

Manager, GTM Strategy

Revenue Operations

Dallas, Texas

Manager, GTM Strategy

Revenue Operations

San Francisco

Manager, GTM Strategy

Revenue Operations

Tampa, FL

Sales Development Representative

Sales

Boston, MA

Enterprise Account Executive (Asset Management Solution)

Sales

Chicago, IL

Manager, Solution Engineering

Sales

Chicago, IL

Manager, Solution Engineering

Sales

Dallas, Texas

Sales Development Representative

Sales

Tampa, Florida

Director of Security

Strategic Business Services

Chicago, IL; San Francisco, CA

IT Support Specialist II

Strategic Business Services

San Francisco, CA

Technical Support Specialist - Level 1 (Workflow Automation Solution)

Support Services

Plano, TX

No results were found with the provided filter(s).
Position
Department
Location

Senior Fullstack Engineer (Argentina)

Engineering

Buenos Aires

Sr Software Engineer - (Argentina)

Engineering

Buenos Aires

Senior Software Engineer - (Argentina)

Engineering

Buenos Aires

No results were found with the provided filter(s).