Permitting & Licensing
More staff control, increased collaboration, and a better customer and staff experience. What else could you ask for? Utilize flexible workflows, online payments and submissions, and a custom public portal that's open 24/7.
Powering Every Permit and License
88%
Of municipalities have seen population growth within the last five years.
85%
Of local governments have seen an increase in resident engagement (Up 19% in one year!)
2/3
Residents are dissatisfied with their permitting and licensing process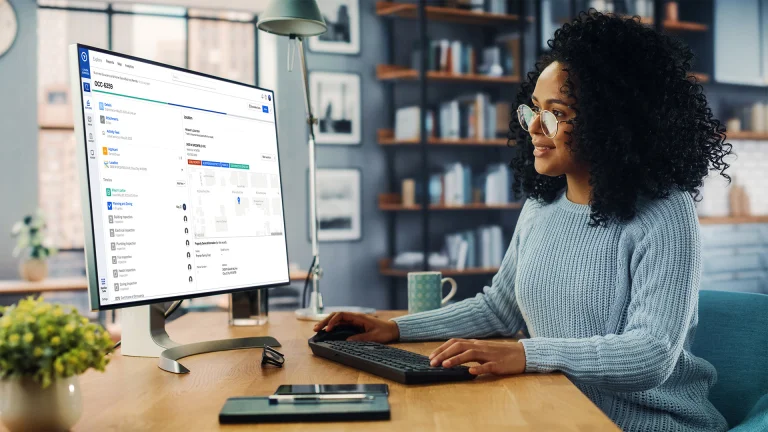 Less Disruptions, More Impact
Moving permitting to the cloud and going paperless decreased permit application processing time to 30 minutes and reduced office traffic by 80%. Want a deeper look? »
Government Permitting Software
Easy Breezy for Applicants and Staff
Say goodbye to phone calls and walk-ins from confused residents. Our easy-to-use permit software offers intuitive and customizable public portals that allow residents to find what they need — all in a few clicks.
Permit Management Software
Edit Workflows - No Coding Required
Want (or need) to make changes to your forms and workflows? No need to contact IT or struggle with confusing coding. The drag-and-drop interface gives you control. Each submission flows from intake to reviews, automatically assigning steps to the next employee so you can focus on high-priority initiatives.
Virtual Inspection Software
On-the-Go Inspections
Welcome to a smarter way to perform inspections. Inspectors can take photos onsite from a phone or tablet so contractors and staff can review construction plans and feedback in real-time. Almost instant inspection results! Staff can also complete tasks in the field, with or without internet, using the OpenGov Mobile App.
Government Licensing Software
Never Miss Another Renewal
Get rid of messy and complicated renewals with our seamless campaign center. In a few easy steps, you can completely automate license renewals in batches by type and renewal process. Completely transform your renewal process while improving compliance and boosting efficiency. Everyone wins.
Drive real change and make a greater impact with these high-performance resources built for the important work of the public sector.
1600+ agencies trust OpenGov to power more effective and accountable government
Thousands of agencies trust OpenGov to power more effective and accountable government
Start Your Journey to High-Performance Government