Procurement
Upgrade to the most automated government procurement software. RFPs to contracts, transform the entire procurement lifecycle. The best part: Do it all in the same platform.
Why Procurement Needs an Upgrade
39%
Of procurement teams say other departments are only somewhat or not at all satisfied with the procurement process
45%
Of public procurement professionals said it takes at least 30 days to turn a purchase request into a released solicitation
56%
Of procurement departments have experienced decreased employee retention over the past three years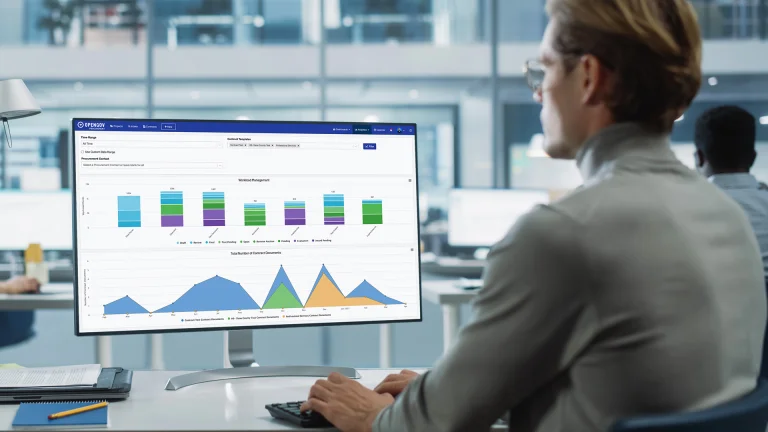 High-Performance Government Procurement Software
Forget wrestling with word processors, 3-ring binders, spreadsheets and outdated software — none of which meet a public procurement professional's needs. Take collaboration, speed and compliance to a whole new level using OpenGov Procurement.
Government Procurement Software
Compliant Solicitation Development, 75% Faster
Turbocharge eRFx assembly using automation, collaborative and guided workflows, and intelligent boilerplates. Inline comments, project tracking reports, and automatic alerts, help teams build solicitations in record time while making life much easier for suppliers. 
Procurement Management Software
Happier Suppliers and Faster Evaluations
Working with your office and vendors becomes a breeze with automated addenda, public calendar updates, notifications, in-line instructions, Q&A, live chat support, and reporting. (Whew, what a list!) Plus collaboration features mean smarter purchasing decisions with unprecedented levels of teamwork. High fives all around!
Contract Management Software
Track Milestones and Set Alerts for Deadlines
Clear your desk of file folders and binder stacks. Centralize contracts, giving internal teams and the public easy access to data, all in our cloud procurement system. Keep compliant and in control thanks to automatic deadline and expiration alerts, records retention, onboarding checklists, and tight permission settings.
"OpenGov was definitely our software winner of the year for ease of deployment, functionality, ongoing support, and meeting all expectations."
Melanie McDonough, CINO, City of Lebanon, NH
Procurement Support Services
We Almost Forgot: World-Class Support
Onboard with experienced former public procurement professionals. Post launch, get access to a dedicated account manager, training workshops and online learning sessions. Plus, internal teams and suppliers alike receive live-chat, email, and phone support.
"OpenGov was definitely our software winner of the year for ease of deployment, functionality, ongoing support, and meeting all expectations."
Melanie McDonough, CINO, City of Lebanon, NH
1600+ agencies trust OpenGov to power more effective and accountable government
Start Your Journey to High-Performance Government