The only modern cloud software built to power public administration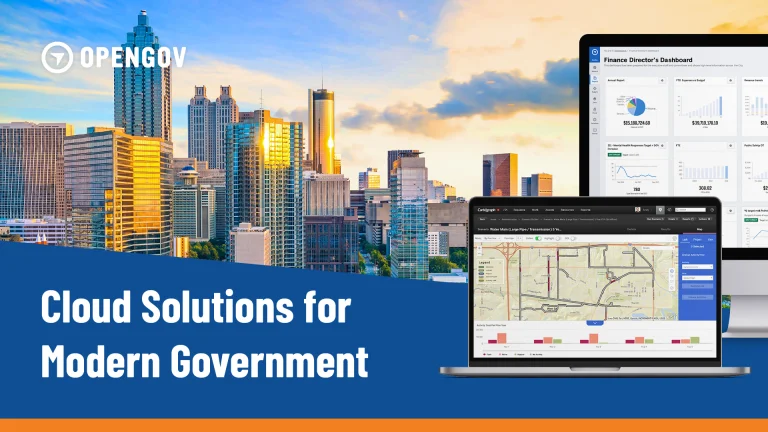 Maryland DOT
City of Ft. Lauderdale, FL
County of Allegheny, PA
District of Columbia, DC
State of California Fi$Cal
State of Illinois
County of Mono, CA
City of Minneapolis, MN
City of Cupertino, CA
Many core processes.
One modern solution.
 Over 1,600 governments across the U.S. rely on OpenGov's 500+ combined years of government experience to transform public administration through collaborative budgeting, robust financial management, and intuitive resident services solutions delivered with our industry-leading Reporting & Transparency Platform. Our government ERP software solutions include Budgeting & Planning, Procurement, Permitting & Licensing, Reporting & Transparency, and Asset Management.
Budgeting & Planning
---
Operating Budget
Capital Planning
Workforce Planning
Online Budget Book

Procurement
---
Solicitation Development
Supplier Engagement
Evaluations & Awards
Contract Management

Financials
---
Core Financials
Payroll & HR
Utility Billing

Asset Management
---
Asset Management
Work Management
Resource Management
Infrastructure Planning

Permitting & Licensing
---
Forms & Workflows
Public Portal
Inspections
Online Payments

Government ERP Software
The Modern Alternative to
Government ERP
Today, local governments need more than what their traditional ERPs can do alone. Modern financial management requires that governments understand their data deeply to identify trends and develop contingency plans, help citizens understand strategic initiatives, and connect their performance to community impact. They must do this while protecting against growing cyber-threats and supporting a younger, more distributed workforce. For all this, they need modern ERP software.
Tackle Work Any Time, Anywhere
Allow for staff to access mission-critical software from anywhere. OpenGov's Cloud software enables both centralized and distributed workforces with device-agnostic software that frees your staff to collaborate virtually in a remote environment.
Enhance Collaboration
Easy-to-use interfaces and advanced controls help occasional users such as department heads and citizens complete their tasks while system administrators maintain the control they need for data accuracy and compliance.
Drive Communication and Transparency
Supplement public hearings with online surveys, virtual town halls and council, and budget simulations. Gather feedback from residents by reducing the barriers of involvement. Publicly demonstrate progress on projects and strategic initiatives backed up by financial and performance data.
Reduce the Burden on IT
Backstop risks to your institutional knowledge through enhanced continuity from hassle-free updates, multi-site backups, and robust disaster recovery plans. Lower Time-to-Value through accelerated implementation that configures user-friendly software to your needs and gets your team running quickly.
Break Down Data Silos and Improve Reporting
Centralize data across your government and increase efficiency with integrated end-to-end cloud software. Robust reporting and dashboards provide a single source of truth for up-to-date financial and operational data with context to all stakeholders.
Experience Partnership from the Start
Leverage OpenGov's passionate, committed staff with over 300 years of collective government experience to make it easy to get needed support and help ensure success before, during, and after implementation. Easily access support through web, chat, phone, or dedicated customer success management based on your needs.
Reduce Manual Operations
Centrally manage processes and operations without complex spreadsheets, paperwork, or unwieldy software with a fully integrated cloud government software. Automate processes to cut down on time-consuming manual work.
Fortify the Security of Critical Data
The OpenGov Cloud leverages best-practice standards for data protection, platform infrastructure, and user access to protect from hacking, DDOS attacks, ransomware, fraud.
"Affordable homes, good paying jobs, reliable mass transit, and an overarching view of resiliency and sustainability -- that's what OpenGov allows us to track."
"We totally need an OpenGov 'easy button' because it's so easy to use. We are literally in love, if you can love software."
"I use OpenGov every day. Our Permitting & Licenses apps have made it very easy to navigate with all these other divisions and departments. So, it really makes my job easy."